Cirrus BV is a Netherlands company that came up with the idea of a new cloud-based e-assessment solution.
The key differentiator of the solution is a flexible, advanced assessment process and innovative features. Considerable time was devoted to design of a modern user interface which allows to improve the user experience.
The scope of the project was to create a stable, scalable, high-quality  product from scratch that started in 2013 Q4.
e-Assessment platform with user driven interface
The winner of

"e-Assessment

Awards 2017"

Official e-assessment platform of Universities and certification centers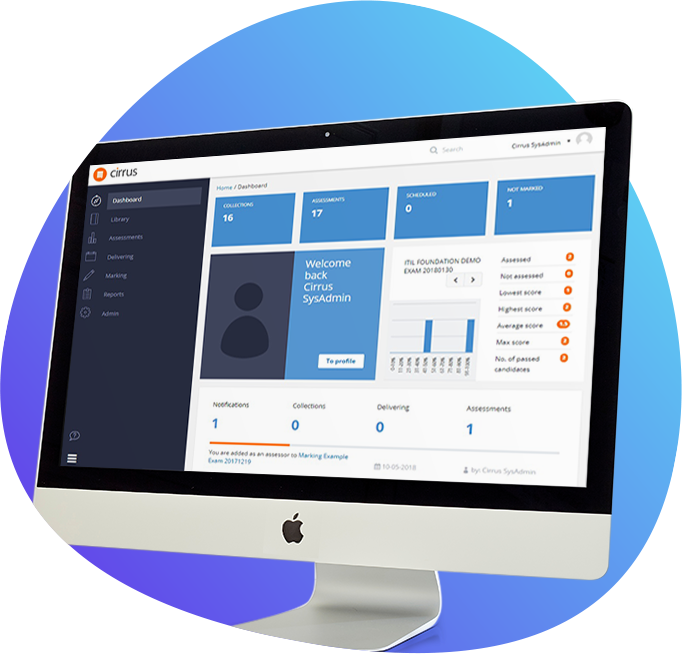 e-Assessment platform with user driven interface
The winner of

"e-Assessment

Awards 2017"

Official e-assessment platform of Universities and certification centers

99,9%
platform availability covered by SLA

1 500 users
passing the exam at the same time without losing in reliability
Cirrus was looking for a strong web development partner to implement a custom cloud-based e-assessment application.
They sent RFP (request for proposals) to several companies and chose NRGSoft based on portfolio, affordable price and flexible access to a wide variety of technical and business experts.
During the first call, the client pitched us the idea and full vision of the system. We found out that he needed a reliable web application that ensures smooth operation during high loads.
The main requirement was a modern user interface that can be constantly updated to meet market needs.
After an internal evaluation of the project, we provided the client with a realistic budget and timeline forecasts.
The scope of the project covered the following services:
Designing efficient high-load architecture
Designing the wireframes for the application
Providing the UI/UX design and making it consistent with the color schemes and design guidelines
Development of web application
Quality Assurance and Testing
To create a user-friendly and competitive design, we conducted our own analysis of competitors' interfaces and offered proactive suggestions for improvement.
As a business model of the product has changed several times due to market needs, we ran Agile Sprints with two weeks interval. It allowed to listen to customers' feedback and to incorporate minor changes and adjustments into the system promptly.
We made the whole process easy and transparent through Slack and Skype making daily progress reports on the project.
Customer

Location

Netherlands

Industry

e-Learning

Project

Link
Cirrus Assessment

Partnership

Period

2013 – present

Methodology

/ Approach

Agile / SCRUM

Technologies

ASP.NET WEB API
Alt
ReactJS
HTML5
Redux
Backbone
AWS EC2
AWS SES
AWS SQS
AWS S3
C#
PostgreSQL
Redis
Hangfire
mongoDB
Multi Tenant

Scalable

Secured
User-friendly and intuitive UI
Easy to design and deliver assessment
Customization of language based on location
Smooth integration with LMS/VLE or corporate systems

Innovative assessment features
Ability to convert natural hand-writing of text, accounting entries, equations or mathematical expressions into digital form during an assessment

Test leakage protection
When transmitting data, the system encrypts test tasks to prevent leakage

19 question types available with opportunity to add new formats
Involves multiple choice, multiple response, numeric, order and other types of questions that can be autoscored or manually marked

Different user roles
Involves five user roles with different levels of permissions: Candidate, Scheduler, Author, Administrator and System administrator

Integration with OpenText Capture
Ability to print questionnaire form, answer the test with a pen, scan it and send to the system

Resistance to Internet outages
The platform has a clipboard that saves responses even offline

Scheduling
Notification system sends reminders to candidates and invigilators using default template

Manual question creation and import
Manual creation of tests and easy import in common formats including Excel, XML, Moodle, and QTI/QTI TAO

Candidate dashboard
According to assessment settings dashboard displays tests results, upcoming and completed exams

Pre-built reports
Access to candidate results, statistics per item and assessment with opportunity to export to Excel
Lean Business Platform
Lean Business is a custom web platform for entrepreneurs helping them to model, plan, analyze and collaborate on business cases
ASP.NET WEB API
C#
MS SQL
HTML5
AngularJS
Win services
SOA
RabbitMQ
AWS S3
Exam Booking System
Exam Booking System is a web marketplace for searching, registering and paying for exam with ability to pass it online through an integrated e-assessment system
Docker
JavaScript
HTML5
jQuery
ReactJS
LESS
CQRS
ActiveMQ
mongoDB
Webpack
Wildfly
Have similar project to implement?
We can build e-Learning platforms, custom educational apps and much more.
Just fill out the form below and let's bring your idea to life