Lean Business Entrepreneurship Platform
Lean Business is a Norway company that created a brand-new methodology for public entrepreneurship support. The company facilitates the journey of entrepreneurs helping to model, plan, analyze and collaborate on business cases.
NRGSoft develops a comprehensive online platform that combines modeling project capability, training materials and communication with advisors.
Started in 2013 it has been evolved into a very popular tool in Norway, Denmark, Sweden, UK, and many other European countries
Platform that changes the way of doing business
| | | | |
| --- | --- | --- | --- |
| | >30 universities and incubators | | >15000 entrepreneurs worldwide |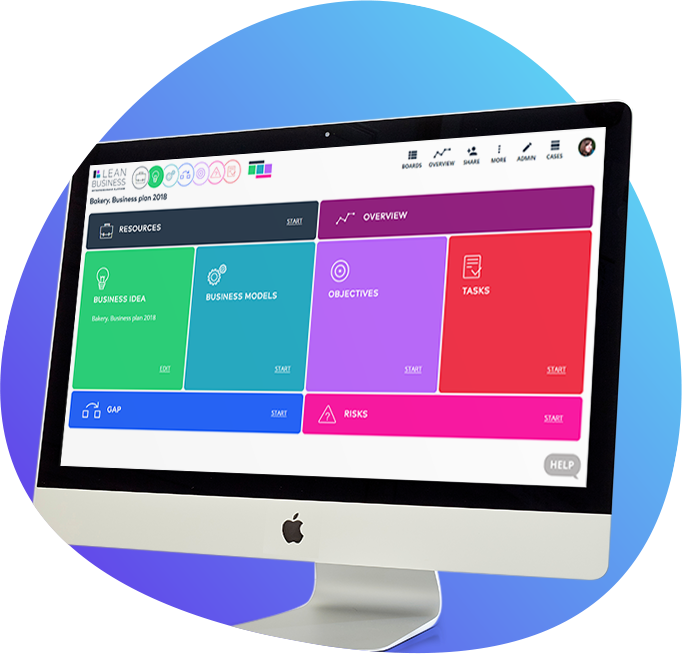 Platform that changes the way of doing business
| | |
| --- | --- |
| | >30 universities and incubators |
| | >15000 entrepreneurs worldwide |
| | >500 new cases every month |

2
weeks
from wireframe to clickable prototype

5
months
from wireframe to beta version release

8
months
from wireframe to public release
The client was looking for a new development team that would be able to transform abstract concepts into tangible innovative result.
After several failed experiences, NRGSoft was referred to Lean Business Team.
They came up with an idea to create a custom web platform for entrepreneurs that would help to improve business planning using advanced modeling tools and to monitor business activities.
Initially, we received the concept in the form of a speech, wireframes and Excel-based prototype with details, figures, and scenarios.
Provided the initial business analysis, we shared our vision on technical specification and design of the platform with Lean Business Team.
The project was managed personally by one of NRGSoft owners to offer the highest level of accountability and transparency in communications and quality of development.
The scope of project covered full-cycle software development including design, prototyping, development, testing and maintenance.
In order to provide the best service, our team used an adaptable workflow that guarantees quick respond to featured refinements and updates.
We delivered a white label web application for business planning with an extensive feature set which is flexible enough to streamline the functionality to changing users needs.
Customer

Location
Norway

Industry

e-Learning

Project

Link
Lean Business Platform

Partnership

Period

2013 – present

Methodology

/ Approach

Kanban

Technologies

ASP.NET WEB API
MS SQL
HTML5
AngularJS
Win services
SOA
RabbitMQ
AWS S3
C#

Mobile solutions for greater flexibility and outreach
User-friendly and elegant UI
Easy-to-use and cutting-edge design of the platform
Architecture that allows to customize solution for multiple clients
Advanced synchronization capabilities across different devices
Available in cloud environment
Multiplatform Accessibility
Multiplatform-friendly platform available on any device
Opportunity to integrate the platform with corporate systems
Advanced Customization Options
Change the system configuration, including language, dashboards, etc.
Extended analytics and user interaction

White label solution

Organizations can put their own branding, customize terminology, translation and reports

Calendar and events management

The platform allows to create meetings between advisors and entrepreneurs within shared calendar

Built-in media player

A great tool for imparting complex ideas concisely. Failproof infrastructure for online video library guarantees the quality of courses

Embedded messenger

Enable entrepreneurs and advisors to collaborate meaningfully every step of the way. Additionally, chat is a perfect collaboration tool for the team

Notification system

Instructors can send out customizable notifications for specific dates and events.

Customizable dashboards and pre-built reports

Entrepreneurs can export the reports to MS Word using business plan generator

Easy progress tracking

Advisors dashboard allows tracking the entrepreneurs' progress and displays detailed analytics and reporting

Database for courses and materials

Platform offers access to educational materials in an interactive form with guides and recommendations

Multilingual system

Ability to change platform language:
To add or to turn off required languages
Cirrus Assessment
Cirrus is cloud-based e-Assessment system with simple and intuitive interface that scales from zero to thousand exams simultaneously
ASP.NET WebAPI
C#
PostgreSQL
HTML5
ReactJS
Redux
AWS EC2
AWS SES
AWS SQS
AWS S3
mongoDB
Alt
Backbone
Redis
Hangfire
Exam Booking System
Exam Booking System is a web marketplace for searching, registering and paying for exam with ability to pass it online through an integrated e-assessment system
Docker
JavaScript
HTML5
jQuery
ReactJS
LESS
CQRS
ActiveMQ
mongoDB
Webpack
Wildfly
Have similar project to implement?
NRGSoft Team has rich and unique experience in development of e-Learning systems.
Tell us about your challenges and we will help to overcome them